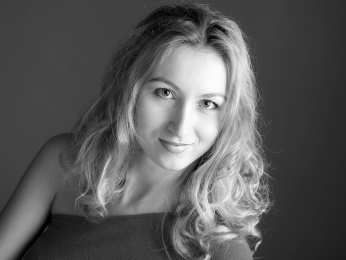 Reviews

Kim Hannigan
17 May 2019 at 16:59

I feel very lucky to have stumbled across Anastasiya when I first started piano lessons in 2005 as an adult. I always achieved distinction and honours to grade 7. Many years later after I had my own family I decided to go back to complete my final grade. Currently I'm learning one of my favourite pieces Clair de Lune by Debussy. Anastasiya has a wonderful way of teaching with patience, encouragement & professionalism. She explains complex timings in a way that the student will clearly understand. She has also helped me feel more of the music that I play rather than just the notes. Anastasiya is an exceptional teacher and I highly recommend her for all levels and ages.

Gerard Bradshaw
15 May 2019 at 20:13

I was gifted a second hand piano two years ago by my daughter and after several trial's with various teachers, I was gifted again with the introduction to the wonderful Anastasiya. She has such a relaxed method of teaching. I love my «piano lesson» Tuesdays!

Shen, mother of Sofia
15 May 2019 at 8:39

Anastasiya has been teaching Sofia for the past 2 years. Thanks to her patience and guidance, Sofia has been much more focused on her learning while also enjoying it more.
She has made a lot of progress and has achieved distinction in her recent Grade 2 exam which encouraged her to look forward to the next grade.
Anastasiya is a great teacher and I would recommend her to anyone that wants to learn piano.

Sinead, mother of Lucy and Anna
26 August 2018 at 15:00

Anastasiya has been teaching Lucy for the last three years and Anna for one year. Both girls look forward to and enjoy their lessons. Anastasiya is incredibly encouraging and supports the very different learning styles of the girls. They have both made great progress and have been very happy with their RIAM exam results. We would highly recommend Anastasiya to children of all ages and levels, she is an extremely talented teacher.

Louise, mother of Luke, Emma, Colm and Laura
10 August 2018 at 12:11

Anastasiya is an amazingly talented piano teacher. Our four children have taken lessons with her over the past six years. She has guided them successfully through their grade exams at the RIAM. Anastasiya has great patience and can adapt her teaching style in an age appropriate way. In recent times she has prepared Luke and Emma for their state music examinations at both Junior and Leaving Cert levels, giving them great encouragement and support along the way. We would highly recommend her and are delighted to have her as our piano teacher.

Anne-Marie, mother of Emma & Rachel
21 June 2018 at 11:27

Anastasiya is an exceptional teacher. Our daughters enjoy their lessons and are helped to reach their potential by Anastasiya. The progress they have made this year has been enormous. I am delighted to have found such a wonderful teacher and I'm very happy to recommend to anyone considering taking lessons.

Gina Traynor
18 June 2018 at 9:53

Anastasiya has been a really great piano teacher for our daughter, who is a highly sensitive child. Our daughter didn't want to do formal RIAM exams but Anastasiya has rigorously assessed her and guided her to make great progress through the grades over the three years she has been teaching her. Over those few years our daughter has learned a lot of music, both at a theoretical and a practical level and we are very pleased to have Anastasiya as her teacher.

Sean Finn
3 October 2017 at 13:06

Before moving to Dublin I had completed Grade 6 at the Royal Irish Academy, however after this I was unable to pursue piano further.

That is until I met Anastasiya. With a lot of patience and support, Anastasiya helped me improve my style of playing, and how I would approach a new piece of music. It is because of this that I achieved a Distinction result in Grade 8 RIAM Piano exam, something which would not have been possible without Anastasiya's guidance. I want to add that until now, I have never achieved a Distinction level result, and to receive this honor for Grade 8 is something I am very thankful for!

In addition to Academic achievements, Anastasiya also improved my performance playing, thanks to her bi-yearly piano concerts, where I would play 1 or 2 pieces in front of a crowd of 30 people. This was great experience, and has allowed me to be a more confident player.

She also allowed me to pursue less conventional pieces of music and styles in addition to my academic efforts, and always had interesting stories to tell about a particular piece of music, and as such we had a great relationship.

Overall, I can certainly recommend Anastasiya as a Piano teacher, she is more than qualified, and certainly very experienced and talented herself! :)

Nataliya, mother of Aleksei
15 August 2017 at 23:25

Anastasiya has been teaching piano to our 10-year old son for the last four years and we're really happy with how it is going. Aleksei made huge progress. Anastasiya is very calm and patient and our son looks forward to her lessons each week. We would happily recommend Anastasiya to anyone looking for a piano teacher.

Laura
13 June 2017 at 10:22

I recently returned to playing piano after a 14 year break. Anastasiya has been a wonderful teacher - so patient and accepting of the fact that I have not always been able to practice with a busy job! Nevertheless we have made excellent progress together and with her help and support, I've got back to a level where I can comfortably play technical pieces to a good standard. I really enjoy our lessons and would highly recommend her to all adult learners.

Niamh, mother of Alanna (8)
20 December 2016 at 0:02

Anastasiya has a wonderfully warm and enthusiastic approach to teaching music. She has the patience that all good teachers need, and an amazing talent for explaining musical concepts in an age appropriate way. Alanna began her lessons at age 6, and has blossomed in ability and confidence since with Anastasiya's guidance. I would highly recommend her to anyone, of any age and ability, looking for a truly talented piano teacher.

Aoife
5 January 2016 at 19:58

Anastasiya is a wonderful piano teacher and I am delighted that I have found her. I began taking lessons for my Grade 1 exam with Anastasiya almost a year ago as an adult beginner. She is very patient and encouraging and I always thoroughly enjoy my lessons with her. In the past year I have completed Grade 1 & 2 exams at the RIAM and I am delighted with my results. I am looking forward to continuing lessons in the future and would highly recommend her as a teacher for anyone interested in taking piano lessons. Thank you Anastasiya!

Siobhan mother to Charlotte age 7
4 January 2016 at 20:59

Anastasiya is a fantastic piano teacher. Charlotte has been having lessons with her for the last year and has made tremendous progress. Having done many piano lessons and exams myself over the years I have never encountered a teacher as good. She has wonderful teaching methods with young children. Thank you and we look forward to many more years with her.

Olesya
1 August 2015 at 10:40

Dear Anastasia, My husband and I would like to express our sincere appreciation and thanks for the time you have spent over the recent years teaching our daughter Milana.
Finding a good piano teacher is difficult, finding a great piano teacher is next to impossible. You are definitely in the 'great' category not only because of your dedication to your craft, the discipline and patience required to teach on a daily basis, but because you really care. It is so nice to see someone who has such a commitment and passion for their work.
Milana has truly enjoyed each and every one of your lessons and all her exams and the results speak for themselves, achieving a high distinction.
We will be leaving Dublin soon. You will be truly missed, but we were so lucky to have you in our life.

We wish you all the best.

With warm regards from the whole family

Lorcan
22 December 2014 at 23:00

I recently decided to take piano lessons with Anastasiya. I have played music all my life but without any formal training for a long time. I wanted to find a teacher to help improve my own playing and become the best that I can be. Anastasiyas technical playing ability and musicianship are outstanding and inspiring. As a teacher she is patient and encouraging and an excellent mentor for all aspects of playing and performance. I cannot recommend her highly enough!

Nicola, mother 7 y.o. Nicholas
10 June 2014 at 17:55

Nicholas is really enjoying lessons with Anastasiya. He recently got Honours in his Elementary grade exam and it has made him a lot more confident and excited to learn more. Anastasiya is a fantastic teacher so happy to have found her.

Graham
2 June 2014 at 14:26

I started lessons 9 months ago and really enjoy them. They combine the technical mechanics of playing and musicianship with lots of encouragement and patience. Highly recommended if like me you want to start to play the piano and have fun doing it.

Alice
28 February 2014 at 14:09

Starting playing the piano with Anastasiya was the best decision I ever made. I am now 15 years old and recently finished my grade 8 piano exam with Distinctions. I love playing the piano and it is a skill I have learned for life.

Gary
27 November 2012 at 22:32

I started learning piano about 3 months ago with Anastasiya. I had never played the instrument before, and was slightly worried that I might struggle with studying music for the first time. However, I'm delighted with what I've found. The lessons are enjoyable and Anastasiya is a wonderfully encouraging teacher. Musical notation is making sense and the importance of scales is becoming clear. I've never had any formal grading for an instrument, and generally it wasn't something that I'd have thought to do, but having taken these few lessons, I intend to see how far I can go.

Elyssa
7 November 2012 at 3:01

keep up the good job man, i like how your takingyour time and eanpxiling the keyboard in a way I've never seen playing!!!!!!!i now begin to understand how singing is the same as playing on the keyboard we sing in those 3 registers of our voices.

Niall, father of 11 y.o. Olivia
27 September 2012 at 9:31

Anastasiya has been the luckiest find for my daughter Olivia. We were delighted when Olivia got Distinctions in her recent grade 3 examination with RIAM- the result she had never achieved with other piano teachers. I would recommend Anastasiya to any aspiring pianist.